WELCOME!
We are so glad that you are here! Whether you are already a member of our faith community, a resident of Central New York, visiting the area, or just happened to stumble across our website, it is our hope and desire that you will find, in the presence and ministry of our community, a safe place to learn, seek, and grow in your spiritual journey.
​
Children's Sabbath School is now on ZOOM! Find the information below the Bulletin
Watch live from anywhere! Saturdays starting at 10 AM here or with the links below.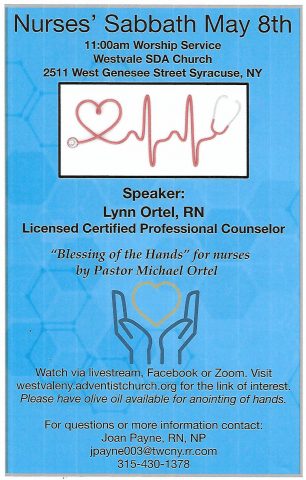 ---
GROWING FRUITFUL DISCIPLES:  A useful tool for your growth as a disciple is found at this website.  Not only read up on the principles but also take the discipleship inventory to assess your strengths and weaknesses.  There are other resources to challenge you to becoming a fruitful disciple of Jesus.  Here's the link:  https://www.growingfruitfuldisciples.com
It has been a very long time since we worshiped together at Westvale, and many have been anticipating the day when we reopen our doors. This is to inform Westvale members and friends that our church is open for worship service Saturdays at 11 AM. If you are ill or have underlying health conditions, we encourage you to join our livestreaming worship.
We want to inform everyone that we have taken precautions, as much as are within our control, to insure that all feel safe when returning to worship together. We will be following CDC and NY State guidelines as well as NY Conference of SDAs' recommendations for the safe reopening of our facility.
Below are some of the steps which we need to follow in order to prevent and/or mitigate the spread of the virus in our facility:


There will be 2 people outside the entrance to the church asking attendees questions prior to entering. This is to determine if anyone is not well or if they have visited any of the hotspot states (these should be quarantining per State mandate). Attendance will be recorded in the event contact tracing is necessary. We recommend that you allow time for this process, and to be seated before start of service at 11:00


Attendees to maintain at least 6 ft distance from one another, abstaining from hugs and handshakes. Once seated, remain seated


In respect to fellow believers, a face covering/mask is required upon entering and exiting. Mask not required once seated in the sanctuary, but are recommended. Face masks are to worn when singing.


Pews have been marked with physical distancing in mind; green tape on back of pew indicates where an individual or family may sit


Front door to church is the only entrance; side doors only for exiting the building


The offering plates will not be passed from person to person; the deacons will be the only ones handling them


The length of the service will be kept to one hour, as much as possible. There will be no access to the SS rooms and the fellowship hall


Only one person at a time in each of the restrooms (the only exception will be parent and child/children); if waiting to enter restroom, maintain 6 ft distance from one another


Wash hands with soap & water after using bathroom. Hand sanitizers will be available in other areas of the facility


The mothers' room will not be accessible until further notice


The water fountains will not be available for use; please bring your own water bottle


No potlucks for the time being


Disinfecting will be done in all common areas after each service
​
The Westvale SDA Church Food Pantry
is open every 1st and 3rd Monday, from 2-4 pm.
The pantry is located in the church building
next to Westvale Church,
2515 W. Genesee St., side entrance.

If you have any questions, please contact
Donna: 315-706-6496
or
Maria 315-415-7870.

In order to protect you and our volunteers,
we're asking that you remain in your vehicle,
and allow us to bring the food out to you.

​
Resources: Senior Nutritional Line
Any food vulnerable adult can reach out to the Senior Nutritional line at: 315-218-1987
Resources: Child Care Solutions
Any Onondaga County resident experiencing child care issues can contact Child Care Solutions at 315-446-1220.
OUR MISSION: Led by the Holy Spirit, we the family of the Westvale Seventh-Day Adventist Church commit to a growing personal friendship with Jesus Christ, so that we may share the joy of our experience with others in an ever widening circle. We will reflect His love through our union, fellowship, service, and worship!
 
Welcome to the Westvale Church in Syracuse, NY. We are a Christian community and would love to have you join our family. To learn more about what we believe you can visit our About Us page. Please join us for Bible study, worship, and prayer.
Pastor Seong Cho
Westvale Church